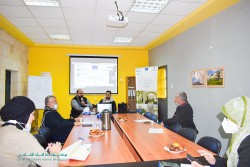 A second meeting was held for the Steering Committee of the "BIM for Energy Efficiency in the Public Sector" funded by the European Union under the ENI CBC Med Programme, and implemented in Palestine by the CCHP in cooperation with the Palestine Solar & Sustainable Energy Society (PSSES) on the 18th of January.
Arch. Issam Juha welcomed the members of the committee and emphasized on their role in this innovative project. Eng. Yazan Shamroukh presented the outputs and progress of work so far, and the defining of the interventions required to design three scenarios for improving energy efficiency consistent with historical buildings.
Eng. Basil Yaseen expressed the full cooperation of the Energy Authority with the team members and the importance of sharing knowledge. Eng. Hadeel Ikhmais from the Environment Authority expressed the importance of such project in mitigating the impact of climate change in the field of energy efficiency. Eng. Arwa Abu Al-Hija, general director of the Ministry of Local Government, emphasized the importance of the project and the MoLG's willingness to cooperate in implementing its activities.