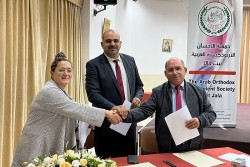 On Saturday, October 22nd, the Centre for Cultural Heritage Preservation signed an agreement for the restoration and rehabilitation of the "Al-Maskobia Building" in Beit Jala City, which belongs to the Arab Orthodox Benevolent Society.
The building will be used by Inad Center for Theater and Arts after rehabilitation through a fund from the Arab Fund for Economic and Social Development.
Al-Maskobia building is considered one of the most important historical buildings in Beit Jala city, as it was constructed in 1892 by the Palestinian Orthodox Imperial Society.