The workshop was attended by the mayor of Bethlehem, Adv. Anton Salman and members of the municipal council, the head of the heritage and culture unit at the UNESCO office in Ramallah, Mr. Junid Soroush, the coordinator of the World Heritage file in the Ministry of Tourism and Antiquities, Dr. Ahmed Rajoub, director of CCHP, Arch. Issam Juha, and a number of representatives of police and community institutions, and the inhabitants and people of Star Street.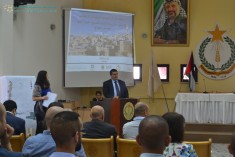 Adv. Salman welcomed the attendance and spoke about the importance of Star Street and the Church of the Nativity enlisted on the World Heritage List. He pointed out that Star Street has a great historical and social importance and has been a commercial center for many years. Salman thanked the Russian side for the donation they gave to the street and their support for the restoration of the Church of the Nativity. He also referred to the restoration of the Church and the efforts exerted by the Head of State of Palestine in this regard.
In return, Arch. Juha made a presentation on important dates for the World Heritage Site, especially the inclusion of the Church of the Nativity and the Pilgrimage Route on the UNESCO / World Heritage List in 2012. As well, he pointed the objectives of the management and protection plan and the importance of preserving the value of the site, the challenges and obstacles that the site is facing and the restoration works in the Church of the Nativity.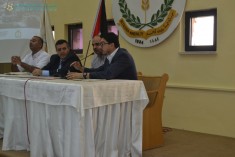 This was followed by an opening discussion on trends, ideas and solutions that would contribute to reviving the street in order to ensure the participation of the local community in all its categories and to outline the vision of the future to revive, protect and manage the street.