These efforts aim at improving the urban situation in the city, and enhance the sense of responsibility of the local community, especially the youth about the importance of cultural heritage and the need to preserve it.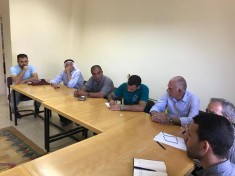 Alongside this activity, a community meeting was organized with the inhabitants and farmers of Battir to collect their feedback regarding the project and how to maintain and protect this area.
This day is funded through the British Council in Partnership with Department for Culture, Media and Sport, under the project "Cultural and Natural Heritage; a Tool for Socio-Economic Development".