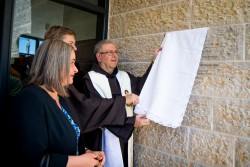 On Saturday, August 27, the Custody of the Holy Land inaugurated the Pilgirm Center for visitors at the shepherds field in Beit-Sahour city, funded by the Franciscan Foundation for the Holy Land.
Along with the inauguration of the St. Francis of Assisi and St. Anthony of Padua chapel  – Palestine Chapel – on the same site, which is funded by one of the Hazboun family members in Bethlehem, Mr. and Mrs. Kamal Anton and Alma Hazboun, continuing a family tradition to finance and rehabilitate places of worship to be shared with their fellow Palestinian citizens and future generations of local and foreign worshippers. These projects were designed and supervised by CCHP.
The Custos of the Holy Land, Fr. Francesco Patton, presided over the inauguration and blessing ceremony, accompanied by the project's coordinator, Fr. Marcelo Ariel Cichinelli, the Custodial Vicar, Fr. Ibrahim Faltas, the President of the Franciscan Holy Land Foundation, Fr. Peter Vasko, and the Local Superior of the Shepherds' Field, Fr. José Maria Falo Espés. The ceremony was attended by the Minister of Tourism and Antiquities, Mrs. Rula Maayah, in addition to legal and religious persons from the region.